Invisalign Clear Aligners are typically a faster orthodontic treatment solution than traditional metal bracket and wire systems. These traditional systems can often take an average of two years to fully transform the smile. As a result, patients that are looking to straighten their smile and address dental concerns such as gaps between the teeth, overcrowding, uneven spacing and problem-causing bite alignments often ask, "how long does Invisalign treatment take?"
Patients will need to wear the Invisalign aligners for a minimum 22 hours per day and can expect treatment to take an average of between 6 and 18 months. Some patients may need more time to achieve their smile goals depending on their unique dental needs: Invisalign will work to correct overbites, underbites and a number of other orthodontic issues.
Your orthodontist will discuss a treatment plan during a consultation, and will set realistic expectations based on your individual case.
How does Invisalign work so quickly?
Those that do fall within the average timeline will start to notice changes rather quickly. Due to the unique design of the aligner trays, the transformation will start right away. Though they are gentle, they are effective. Every week or two, patients will swap their current aligners for a new set. The trays – used in a sequence – will provide continuous readjustment as treatment progresses. Often, this efficient process will leave patients with a brand new smile in as little as six months.
How Long Does Invisalign Treatment Take? For Best & Faster Results, Wear Them Daily
Invisalign trays are made from clear, BPA-free plastic to allow patients to continue with daily life, without being encumbered by uncomfortable dental appliances. Consequently, the comfortable fit intends for patients to wear the aligners for a minimum of 22 hours a day. The remaining 2 hours is time that is allocated for brushing, flossing and eating.
Orthodontists will provide instructions on how to wear and care for the Invisalign trays. This advise should be followed for the entire duration of the treatment, and beyond. This will ensure progress stays on track, to achieve the best results possible.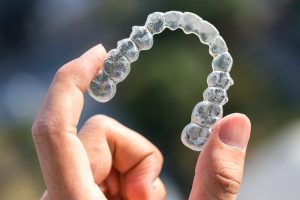 Book a consultation at Medland Orthodontics in Brisbane or the Gold Coast to learn more about the Invisalign treatment process.