Invisalign aligner trays are a convenient and highly effective alternative to metal braces. Invisalign teeth straightening treatment can help you achieve the same results you would get with metal braces. However, the Invisalign treatment is without the discomfort associated with metal wires and brackets. It's only natural to wonder though, is Invisalign treatment painful?
Does It Hurt?
One of the most common questions asked about Invisalign treatment is if it will be painful. If you're familiar with metal braces, you may know that the pain is never excruciating or intense. Yet, with any type of orthodontic treatment comes some degree of mild discomfort while teeth are moving.
However, Invisalign aligner trays do not have the same level of pain or discomfort that you would experience with traditional metal braces. It does not mean that they are completely pain-free, though. Straightening your bite and moving your teeth will involve at least a little bit of discomfort.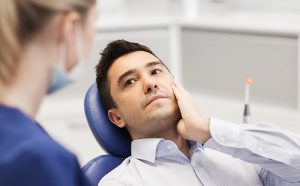 Sources of Invisalign Pain
Typically, Invisalign is a great deal less uncomfortable or painful than traditional metal braces. Just as with other kinds of orthodontic treatments, the pain tends to fade over time. Teeth will adjust to wearing the aligner trays and to having the new trays swapped in and out, and the discomfort will subside.
Some people experience a small amount of soreness when the aligners press against the teeth. This is usually along with a little discomfort as they become accustomed to wearing the aligners almost all day. By the time they switch out the first set of invisible trays for the next stage, most patients find that their mouth has completely adjusted to wearing the aligner trays.
So, is Invisalign treatment painful? Invisalign aligners do have to put some sort of pressure on your teeth, since the overall goal of Invisalign treatment is to shift your bite. This will help to create a healthier, straighter, and more attractive smile, along with a number of other orthodontic benefits. That pressure can cause some tenderness, or discomfort, but it usually goes away within a couple of days.
Book a consultation with Medland Orthodontics in Brisbane or the Gold Coast to talk to your orthodontist about what to expect during Invisalign treatment.