A highly effective alternative to braces that is almost invisible.
Love your smile with an invisible braces alternative that gently corrects a range of bite and alignment concerns. As the most experienced Black Diamond Invisalign provider across the Gold Coast, we're experts at achieving smiles our patients love for years to come.
Achieve results by using a series of nearly invisible, removable aligners that you change every week.
Each aligner is individually manufactured for your teeth and re-designed as they change.
There are no metal wires or brackets so no need to worry about irritation.
Keeping your teeth clean is simpler than ever with the removable, washable aligners.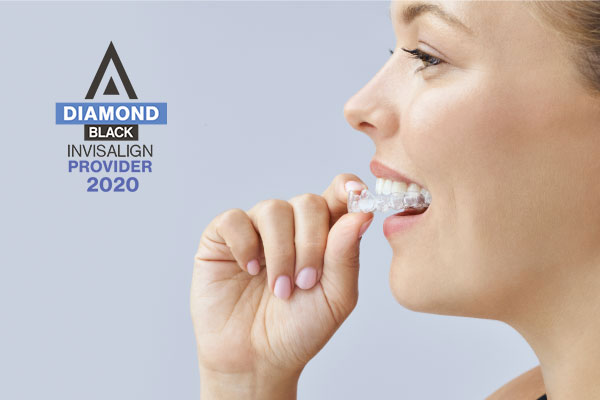 How does Invisalign work?
Invisalign works through wearing a series of clear, removable aligners held in place by attachments that have been bonded to your teeth. These aligners look similar to a mouth guard you might wear for sport, except nearly invisible. You need to wear each aligner for approximately one to two weeks, 22 hours per day.
During this time, the aligner guides your teeth into the position prescribed by your orthodontist.
As the most popular and trusted adult invisible braces alternative, Invisalign has achieved fantastic results for our patients. Book a free consult to learn more about the kinds of results you can expect or head to our Teen page for information specific to teen treatment.
Frequently Asked Questions
How much does Invisalign cost?
At Medland Orthodontics, our goal is to provide outstanding value and a perfect smile for a reasonable price. Treatment fees and treatment time vary depending on the complexity of your orthodontic treatment. After evaluating your case, one of our Orthodontists will be able to determine an individual treatment fee that fits your specific orthodontic needs. We offer flexible payment plans for everyone depending on your lifestyle. Please check with your health fund for orthodontic benefits. Please schedule your complimentary assessment for more information.
Are clear aligners cheaper than braces?
Does Invisalign work as well as braces?
How do I take care of my retainers?
Is Invisalign treatment painful?
Do I have to wear my aligners all the time?
Invisalign clear aligners are most effective when worn 20 to 22 hours per day and changed weekly.
Can I whiten my teeth while straightening them?
Will wearing Invisalign affect my speech?
Like all orthodontic treatments, aligners may temporarily affect the speech of some people and you may have a slight lisp for a day or two. However, as your tongue gets used to having aligners in your mouth, any lisp or minor speech impediment caused by the aligners should disappear.
Ready to show off your best smile? Book an appointment with our Invisalign treatment specialists today.